Ever-Connected, Ever-Growing, Ever-Present
Spring Awakening Yoga Retreat 2023 – Dates TBA
at Savannah Inn, Lewes
Join Jude Block, E-RYT of Ever-Present Yoga, at Savannah Inn in historic Lewes, Delaware for a weekend dedicated to present moment living. Enjoy time to revitalize & renew through active yet accessible yoga workshops in a nurturing space designed not only for relaxation, but also creativity & fun. Observing the flow of breath, energy, movement, & thoughts we'll release tension while bringing forth an overall sense of ease. The breath based flow practices will enhance flexibility & strength, while creating clarity, focus, & present moment awareness. With this body/mind connection we'll feel confidently grounded in the strong roots our true nature. Filled with positive energy and intentions the ever-present gifts of our practices can be integrated into everyday life even after the retreat comes to an end.
Balance your weekend with all the Delaware Beaches have to offer. The Inn is just a short walk to the town's unique shops & gourmet restaurants.Nearby Cape Henlopen State Park offers picturesque beaches, hiking and biking trails.
The retreat package includes Friday & Saturday night lodging, four vinyasa yoga workshops, Friday night group dinner, & Saturday/Sunday breakfast. All levels welcome.
Tentative Schedule:
Friday
Check-in: 3:00pm
Yoga: 4:00 – 5:30pm
Group dinner to follow at Savannah Inn
Saturday
Breakfast: 8:30 – 9:30am
Yoga Session I: 10:15am – 12:15pm
Yoga Session II: 3:15 – 5:15pm
Sunday
Yoga: 8:00 – 9:15am
Breakfast: 9:30am
Check-out: 11:00am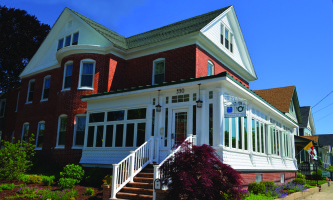 For more information on the Savannah Inn, please visit www.SavannahInnLewes.com.
Nurturing Birth
A One-Day Retreat of Prenatal Yoga & Comfort Techniques for Labor
10:00am – 3:30pm in the Life Center at Savannah Inn, Lewes – $125 per couple
Stay tuned for upcoming dates.
Hosted by: Jude Block, Ever-Present Yoga & Kathleen Whittam, Delaware Doula 
Come spend the day with us being nurtured along your path toward birth.  The retreat begins with Jude guiding a prenatal yoga class for the mothers-to-be.  After yoga, the moms will be joined by their labor support partner for a catered lunch and then stay for an afternoon session where Kathleen will teach effective pain management and coping techniques for pregnancy and labor.  The day will conclude with a short visualization, leaving participants prepared for their birth journey with a sense of calm, empowerment, and connection.
The retreat is open to pregnant women in their second or third trimester and one planned labor partner.  Class size is limited and reservations through Ever-Present Yoga are required.  
To learn more about Kathleen & the services she offers, please visit:
http://www.delawaredoula.net/